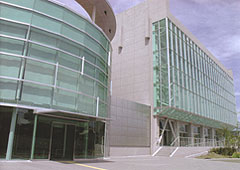 Kuwana civic center is within walking distance of Kuwana Station. It is equipped with a large hall, a small hall and conference rooms that can host recitals, concerts and meetings. The lobby is well illuminated and the outdoor lighting highlights the gorgeous theater space within at night.
Convention(Conference) Facilities
The large hall can seat 1,388 people and the small hall can seat 308. The individual conference rooms can accommodate between 24 to 99 people. The center also has an exhibition space, rehearsal rooms, Japanese tatami rooms and a restaurant.      
Large Hall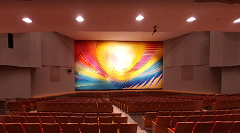 ・ Capacity 1,388 (1st floor: 788, 2nd floor: 280, 3rd floor: 320)
・ It is operated according to the rental standard of Kuwana City, which is based on the measures against coronavirus infectious diseases in Mie Prefecture.
・ Internet line available: 2,200 yen / category
(Including wired and WiFi, dressing room)。
     Small Hall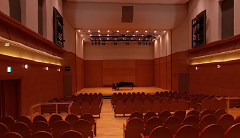 ・Capacity 308 people
・ It is operated according to the rental standard of Kuwana City, which is based on the measures against coronavirus infectious diseases in Mie Prefecture.
・ Internet line available: 1,100 yen / category
(Including wired and WiFi, dressing room)
  Large Conference Room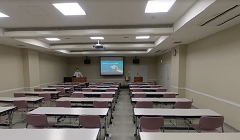 ・Capacity 99 people
・ It is operated according to the rental standard of Kuwana City, which is based on the measures against coronavirus infectious diseases in Mie Prefecture.
・ Internet line available: 550 yen / category (wired and WiFi)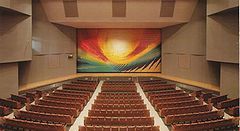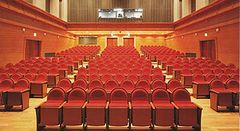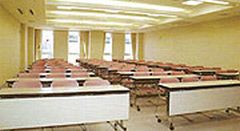 Room
Area(㎡)
Capacity
Fee(Yen)
Theater
School
Hollow Square
Buffet
Dinner
Large Hall
1,388
9:00-21:30:86,400
9:00-12:00:17,280
12:30-16:30:34,560
17:30-21:30:44,440
Small Hall
308
9:00-21:30:57,600
9:00-12:00:11,520
12:30-16:30:23,040
17:30-21:30:29,420
Large Conference Room
127.9
99
9:00-21:30:21,400
9:00-12:00:4,120
12:30-16:30:8,220
17:30-21:30:10,900
Exhibition Room
152
60
9:00-21:30:30,040
9:00-12:00:5,960
12:30-16:30:11,940
17:30-21:30:15,220
Rehearsal Room
96.6
30
9:00-21:30:18,720
9:00-12:00: 3,700
12:30-16:30:7,400
17:30-21:30:9,460
Conference Room/Dressing Room
47.7
30
9:00-21:30:7,400
9:00-12:00:1,440
12:30-16:30:2,880
17:30-21:30:3,700
Conference Room 1
31.6
27
9:00-21:30:5,760
9:00-12:00:1,040
12:30-16:30:2,060
17:30-21:30:2,680
Conference Room 2
49.6
36
9:00-21:30:8,220
9:00-12:00:1,640
12:30-16:30:3,300
17:30-21:30:4,120
Conference Room 3
34.5
24
9:00-21:30:5,760
9:00-12:00:1,040
12:30-16:30:2,060
17:30-21:30:2,680
Conference Room 4
34.5
24
9:00-21:30:5,760
9:00-12:00:1,040
12:30-16:30:2,060
17:30-21:30:2,680
Japanese‐style room
45.2
10
9:00-21:30:9,260
9:00-12:00:1,860
12:30-16:30:3,700
17:30-21:30:4,740
Information

 Operating hours for convention facilities: 9:00-21:30
  Closed: Tuesdays (If Tuesday is a natinal holiday, the next day is closed instead) , December 29 to January 3
  Reservation start date:
  【Halls and Exhibition Room】1 year in advance, from the first day of the month
  【Other rooms】6 months in advance, from the first day of the month


 Wi-Fi Areas: Restaurant


 15 min. walk from JR・Kintetsu Kuwana Station


 10 min. drive from Kuwana Exit of Higashimeihan Expressway


 223 standard-sized cars(free parking)


 3-20 Chuo-cho, Kuwana, Mie 511-0068
  TEL +81-594-22-8511 FAX +81-594-22-8510
  Email civiccenterm@city.kuwana.lg.jp
  URL Click here ※Japanese only