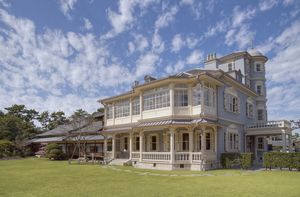 Construction of Rokkaen (former residence of Mr. Seiroku Moroto) began in 1911 as the new residence for second-generation businessman Mr. Seiroku Moroto, and was completed in 1913. The expansive grounds of this residence, which includes Western- and Japanese-style homes and a storehouse, as well as a circuit-type Japanese garden with a spring, have been preserved to faithfully maintain as much of the original atmosphere as possible. The Western-style house of Rokkaen, also known as the former residence of Seiroku Moroto, was designed by the British architect Josiah Conder. He is also the architect of the famous Rokumeikan in Tokyo, and is widely regarded as the father of modern Japanese architecture. The Western and Japanese-style houses were designated as an Important Cultural Property in 1997 and the garden was designated as a Natural Scenic Site in 2001. 
Convention(Conference) Facilities
This venue is perfect for smaller gatherings, such as meetings where attendees also enjoy the view over the beautiful gardens, tea ceremonies in the Japanese tatami rooms, holding of an art exhibition at the storehouse, and concerts at the hall of the Western-style house. It is a place where visitors can enjoy two different styles of architecture and a beautiful garden all at once.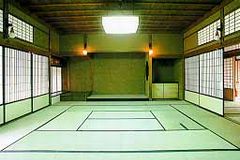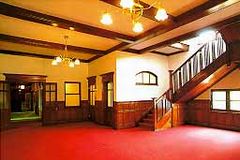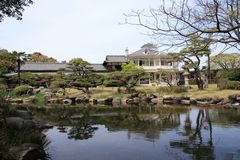 Room
Area(㎡)
Capacity
Fee(Yen)
Theater
School
Hollow Square
Buffet
Dinner
Japanese style building Room 1
39 tatami mats(64.3㎡)
50
200(total capacity of Japanese style building and Western style building)
100
9:00-17:00 20,580
9:00-12:00 10,280
13:00-17:00 14,400
Japanese style building Room 2
22.5 tatami mats(37㎡)
20
30
9:00-17:00 12,340
9:00-12:00 6,180
13:00-17:00 8,220
Cottage(Japanese style room)
14 tatami mats(23.1㎡)
15
20
9:00-17:00 8,220
9:00-12:00 4,120
13:00-17:00 6,180
Takasu Room(Japanese style room)
9 tatami mats(14.9㎡)
6
10
9:00-17:00 6,180
9:00-12:00 3,080
13:00-17:00 4,120
Gallary in Banzo building
86
9:00-17:00 10,280
Conference Room
54
40
80
9:00-17:00 8,220
9:00-12:00 4,120
13:00-17:00 6,180
Western style building 1F Hall
30
40
Please inquire
Garden
9:00-17:00 20,580
9:00-12:00 10,280
13:00-17:00 14,400
Information

 Operating hours for convention facilities: 9:00~17:00
  Closed: Every Monday(If Monday is a National Holiday, the facility is closed the following day instead)
  Reservation start date: 6 months in advance, from the first day of the month


 Wi-Fi Areas: Lobby hall


 20 min. walk from JR・Kintetsu Kuwana Station


 10 min. drive from Kuwana Exit or Kuwana East Exit of Higashimeihan Expressway
  10 min. drive from Wangan Kuwana Exit of Ise Wangan Expressway


 5 large-sized buses(free Parking), 80 standard-sized cars (free Parking)


 663-5 Kuwana, Kuwana-city, Mie 511-0009
  TEL +81-594-24-4466 FAX +81-594-24-4627
  Email rokkam@intsurf.ne.jp
  URL https://www.rokkaen.com/ ※Japanese only