Welcome to
What Type of Prefecture is Mie?
The Five Areas of Mie Prefecture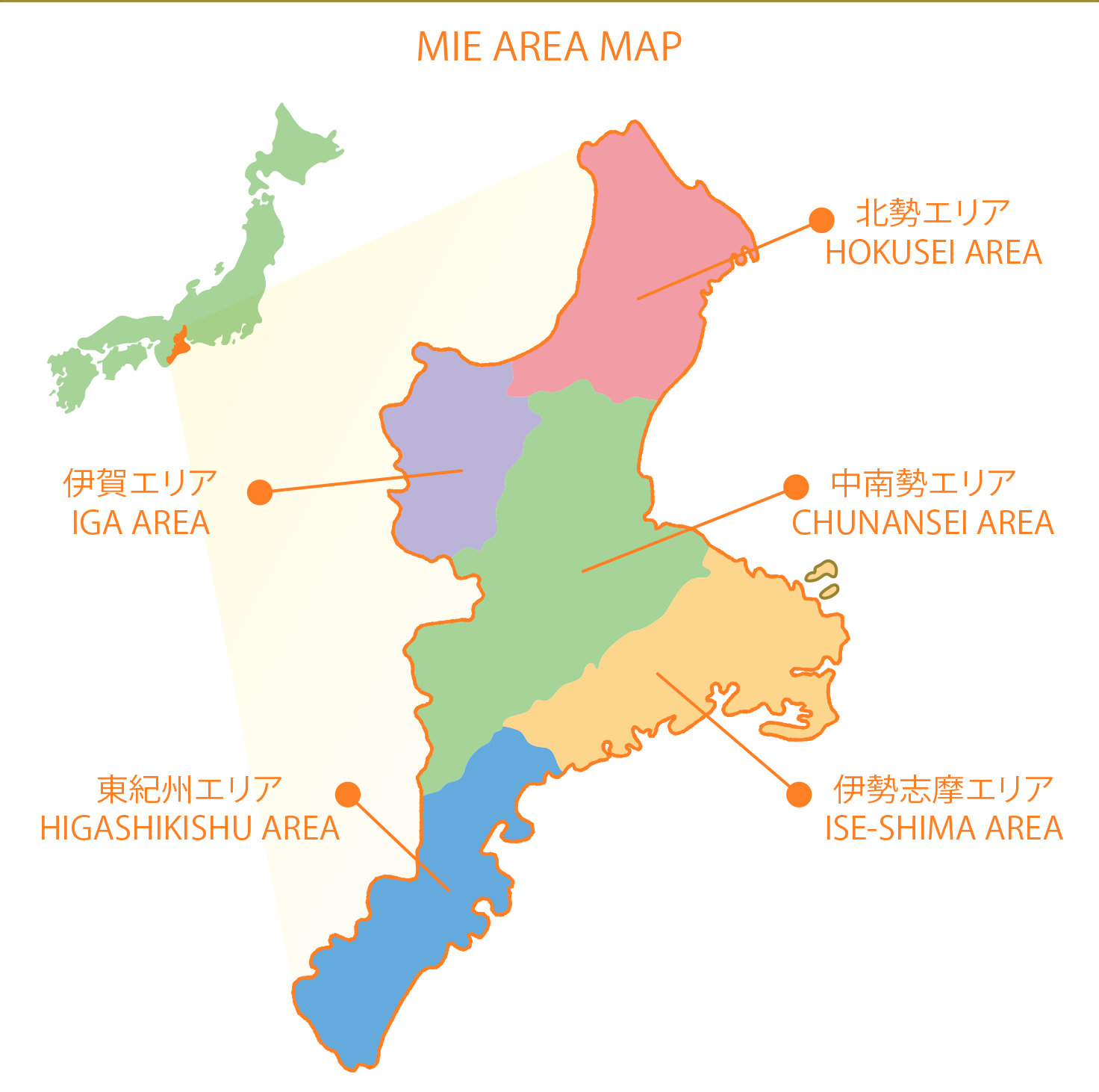 Located near the center of Japan, Mie is home to many beautiful natural and historical sites, including Ise Shrine (known as the origin of Japanese culture), the Kumano Kodo Pilgrimage Route (a UNESCO World Heritage Site), the birthplace of the Iga ninja school, and its jagged coastline. Mie is known as umashikuni, a land of beauty, because of its rich blessings with nature, culture, and bounties of the land and sea.
Sister city arrangements with countries participating in the Summit
1963: Yokkaichi and Long Beach (California, USA)
1966: Toba and Santa Barbara (California, USA)
1968: Owase and Prince Rupert (British Columbia, Canada)
1990: Suzuka and Le Mans (France)
1991: Suzuka and Bellefontaine (Ohio, USA)
1995: Taki and Camas (Washington, USA)
2001: Kumano and Sorrento (Campania, Italy)

Ise-Shima Area
Come on a Journey to Ise Shrine!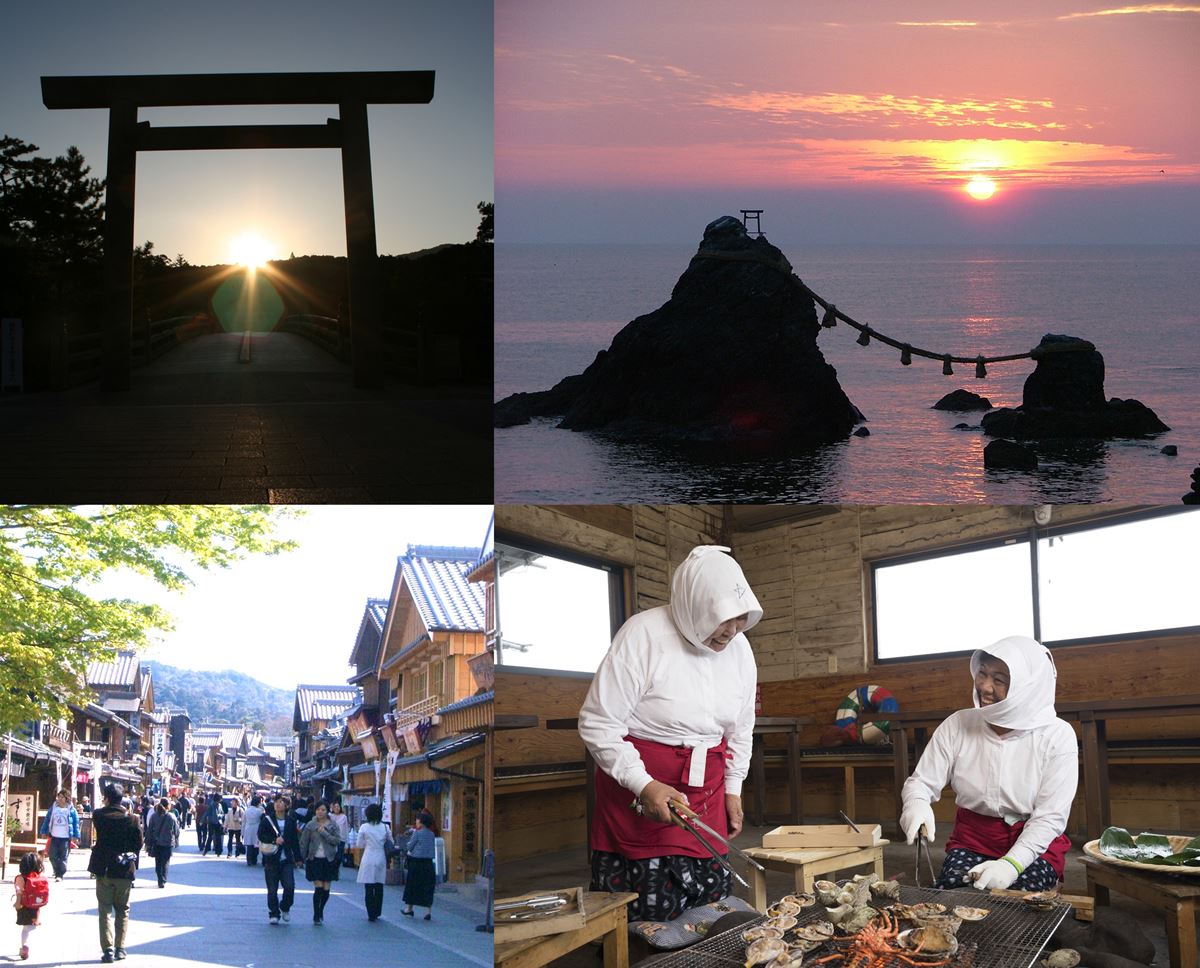 The Ise-Shima area is home to Ise Shrine (known as the origin of Japanese culture), Meotoiwa (a rock formation in Futamigaura Cove, resembling a married couple), and its jagged coastline (also known as a ria coastline). A famous old song in Japan goes, "I wish to go to Ise, I want to see Iseji Road, at least once in my life." The much-visited Ise Shrine consists of 125 sub-shrines, including its famous inner sanctuary, Naiku. After visiting the Shrine, you can head to Oharai Town, which is lined with souvenir shops and rest areas. In this town you can experience the traditional local hospitality passed down in Ise.

Be sure not to overlook the sea as well, which has provided its bounty to Ise Shrine. To meet ama (fishing women), head for the Ama huts in the thriving fishing centers of Toba and Shima. You can enjoy fresh seafood caught by ama while chatting with them around a cooking stove.

Hokusei Area
Enjoy bountiful nature and some of the most popular theme parks in Japan!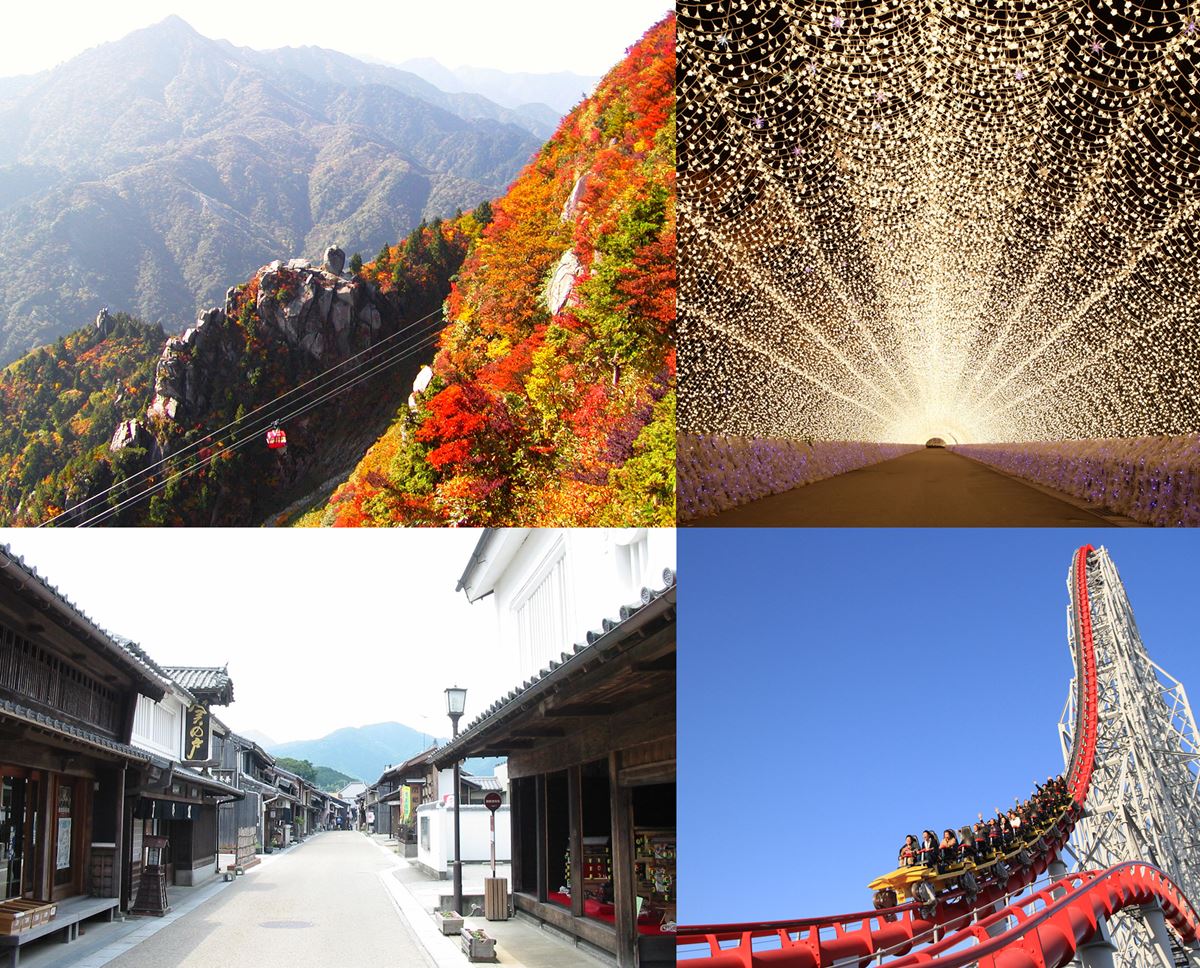 In addition to Mt. Gozaisho with its superb views of the Hokusei area, this region is home to amusement parks such as Nagashima Spa Land and Suzuka Circuit. Mt. Gozaisho is a mountain park accessible by a world-class ropeway providing breathtaking views. At the foot of the mountain is Yunoyama Hot Spring, visited by many Japanese poets and literary legends.

Nagashima Spa Land and Suzuka Circuit are comprehensive leisure complexes that include amusement parks, hotels, pools, and other facilities. The Nabana no Sato flower garden is also a popular destination, having some of the best illuminations in Japan.

Chunansei Area
Satisfy your appetite for history, nature, and delicious food!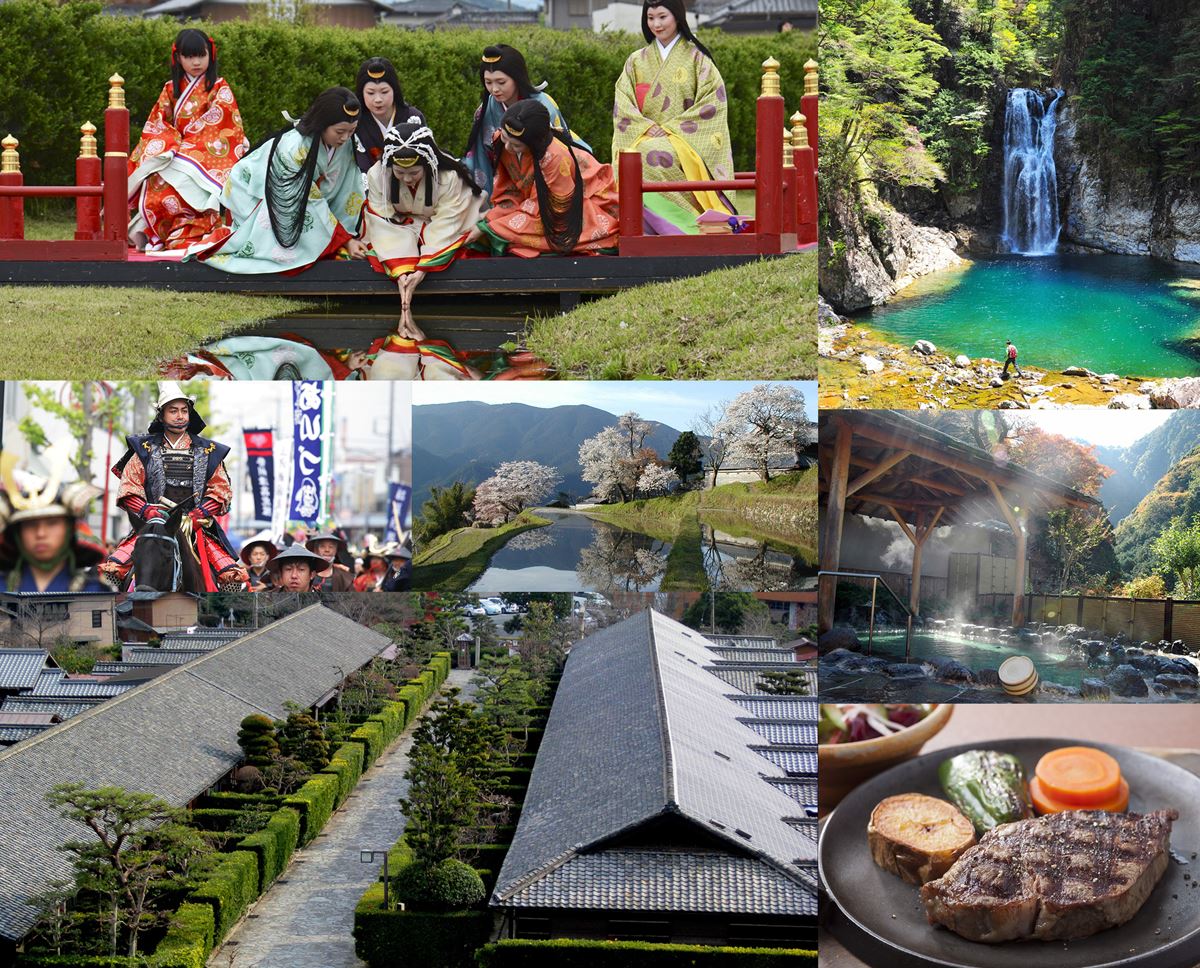 The Chunansei area, located in the middle of the prefecture, holds many ancient sites that have been selected as Japanese national heritages, including the Saigu Ruins (home of the ancient imperial princesses who served at Ise Shrine), the Matsusaka Castle Ruins, as well as old samurai residences. Sakakibara Hot Spring, listed as one of Japan's top three hot springs in The Pillow Book (a famous book from ancient Japan), is relatively close to the Saigu Ruins. At the Miyagawa River, which flows into Ise Bay, you can look out over the gorgeous clear stream and even go rafting during the summer months. The famous Matsusaka beef cattle are bred in and around Matsusaka City. Be sure to try this delicious, melt-in-your-mouth local delicacy.

Iga Area
Find dynamic, beautiful nature and ninjas in the birthplace of the Iga ninja school!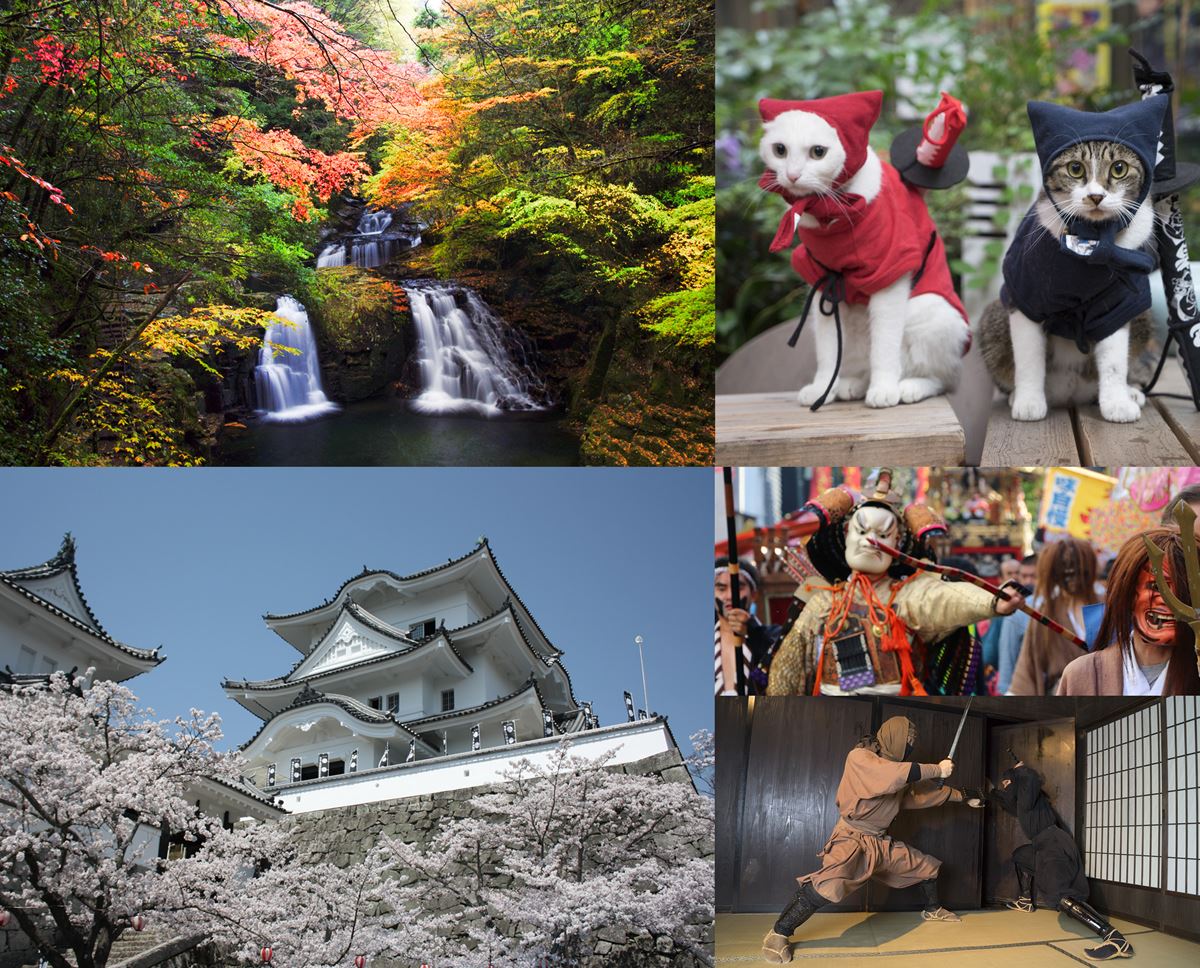 In the Iga area, you can tour a ninja village and the famous Akame 48 Waterfalls. To see ninjas, head for Ueno Park, where you will find the Ueno Castle Ruins and the Ninja Museum of Igaryu. You can even try your hand at being a ninja with activities like shuriken (throwing ninja stars). You are sure to be surprised by the clever tricks hidden throughout the ninja houses and the kunoichi (female ninja) demonstrations.
The Akame 48 Waterfalls stretch across 4 km, and they have been selected as part of Japan's top 100 waterfalls and top 100 sites for taking soothing walks through the forest. Visiting the Akame 48 Waterfalls is called takimairi, revered since ancient times.
Higashikishu Area
Encounter miraculous landscapes and excellent old scenery of Japan in Higashikishu!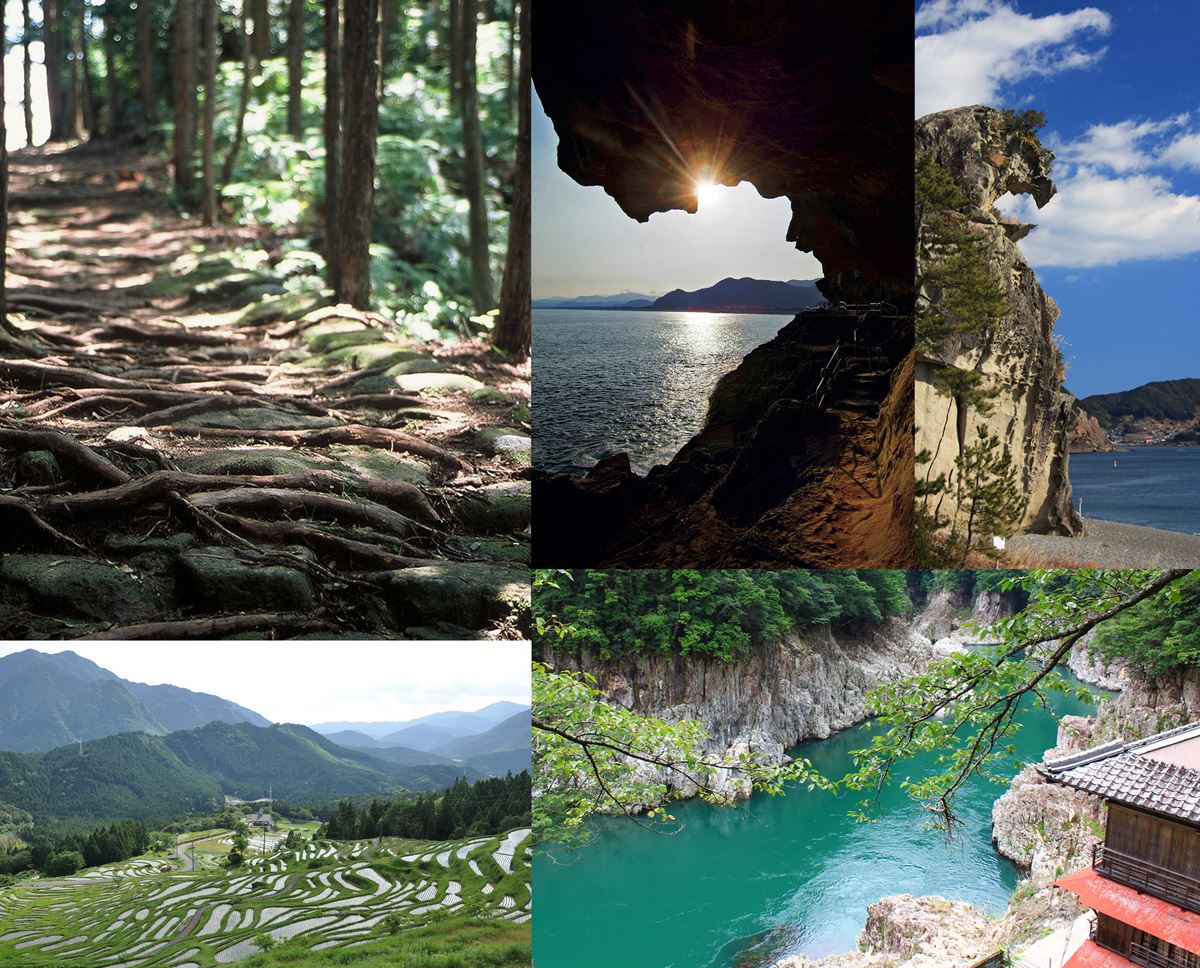 You can encounter breathtaking landscapes in Higashikishu with magnificent nature. The Kumano Kodo was registered as a UNESCO World Heritage Site in 2004 as part of the Sacred Sites and Pilgrimage Routes in the Kii Mountain Range. The Kumano Kodo refers to all of the old roads connecting the Kii Peninsula's southern region, Kumano, with Ise, Osaka, Wakayama, Mount Koya, and Yoshino-Omine. The pilgrimage route section of the Kumano Kodo, which connects Ise Shrine to the three Kumano Sanzan shrines, is called Iseji Road, and it has become a popular route for visiting Ise Shrine. Walk this road, used by pilgrims from the Heian to Edo periods, and you can feel the history and nature that have continued without interruption to this day.

A mountain village lifestyle remains around the Maruyama Senmaida paddy fields (selected as part of Japan's top 100 terraced rice paddies), evoking images of the traditional scenery of Japan. This area is filled with other interesting sights too, such as the demon-shaped Onigajo, the lion-shaped Shishiiwa, and the shield-shaped Tategasaki rocks, as well as Japan's longest gravel beach, Shichirimihama.