Mie's Industries
Agriculture, Forestry and Fisheries in Mie
With the spectacle of nature varying greatly as the seasons change, Mie Prefecture boasts diverse agriculture, forestry and fisheries operated by various dedicated people on the fertile farmland in the Ise plain and Ueno basin, in the forests extending from the Suzuka Mountains to the Odai Mountains, and in the rich fishing grounds extending from Ise Bay to Kumano-nada.
The agriculture, forestry and fisheries in Mie Prefecture contribute to the preservation of prefectural land, the creation of beautiful landscapes in rural areas, and the succession of traditional culture through the people's activities. Coupled with the prefecture's history and culture that have been handed down from ancient times, the agriculture, forestry and fisheries contribute greatly to disseminating the charms of Mie.
Agriculture
Blessed with favorable conditions such as a warm and mild climate and a location adjacent to the large markets of the Chukyo and Hanshin areas, Mie produces a wide variety of agricultural products, including the world-renowned Matsusaka beef and Iga beef, Ise green tea that ranks third in Japan in production volume, rice, tomatoes, mandarin oranges, Kumano jidori(chicken), and Mie satsuki azaleas. These agricultural products, which are produced through refined craftsmanship and regional characteristics, are highly valued among people both in Japan and overseas.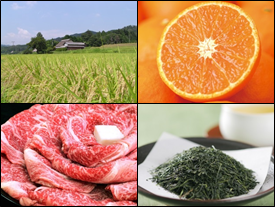 Forestry
With a favorable environment blessed with mild weather and ample rainfall, the forests that account for 64% of the prefecture's land yields high-quality cedar and cypress lumber. Produced through repeated careful practices such as thinning, lumber featuring excellent color, glaze and aroma has been highly valued in construction as both structural and interior materials.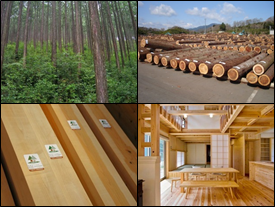 Fisheries
Mie is one of the leading prefectures producing marine products, including spiny lobsters, abalone, oysters, and pearls, in waters rich in variety, such as Ise Bay, where a shallow sand beach extends a considerable distance from shore, the ria coasts of Shima Peninsula, and Kumano-nada, where the Black Current flows. In particular, spiny lobsters, of which Mie Prefecture boasts the largest-class volume in Japan, are delicious beyond description.