Weather & Directions
Access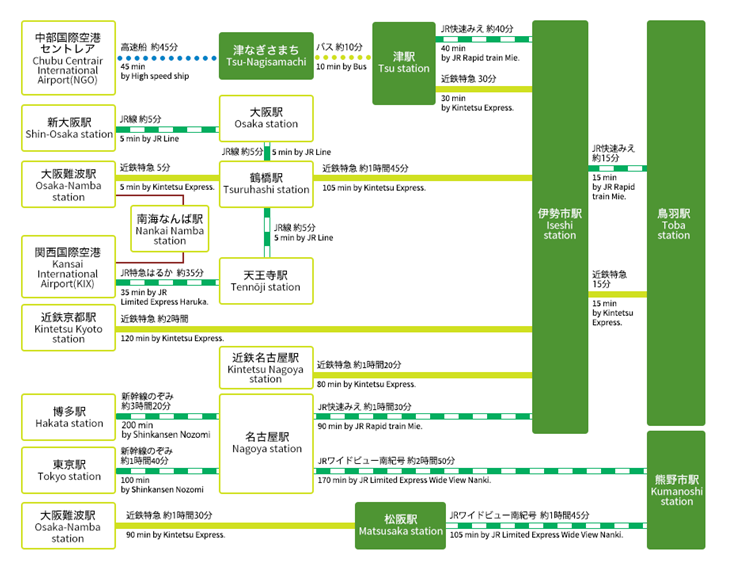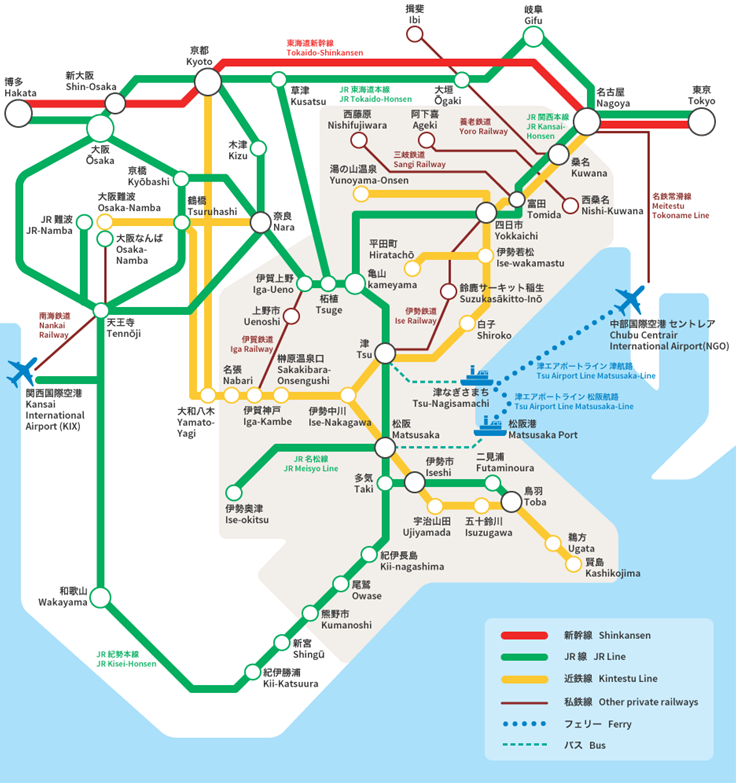 Reprinted from the Japanese website "Mie Travel Guide" (http://www.travel.pref.mie.lg.jp/en/access.shtm)
Weather in Mie
Geographically located almost in the center of Japan and facing the Pacific Ocean, Mie Prefecture extends from south to north about 170 km [106 miles] along the eastern side of the Kii Peninsula and from east to west about 80 km [50 miles],creating a vertically long shape.
The weather in Mie Prefecture is generally warm although some differences are seen among plain, mountain and basin areas. In the north, where a series of mountains are located, it snows frequently. In the basin area of Iga, winter is cold, while summer is hot. The temperature may rise to nearly 40°C [104°F] on hot summer days.
The Ise-Shima Plain has a relatively mild climate. The region from the Owase area to the Odaigahara mountain range in the south has one of the heaviest rainfalls in Japan. It is safe to say that the Miyagawa River, known as the finest freshwater stream in Japan, and the Choshigawa River, where the border between freshwater and seawater can clearly be seen, were produced thanks to such heavy rainfalls.
In Mie, while you can enjoy a great variety of events, foods and leisure activities throughout the year, the best seasons in terms of weather are spring and autumn. In autumn, a great time to visit is in October and November, after the typhoon season ends. In summer, although you need to be careful about heat stroke since it can be quite hot, you can still enjoy comfortable weather in the mountain areas.
In the Kii mountain range are various places where you can enjoy spending summer days, including the Akame 48 Waterfalls in Iga, Mt. Gozaisho-dake in the Hokusei area, and Mt. Hidega-take (Mt. Odaigahara), the highest peak in the prefecture with a height of 1,695 m [5,560 feet]. Come to Mie and enjoy its colorful four seasons.


Reprinted from the Japanese website "Portal site for moving into or communicating with Mie; Nice Place Mie" (http://www.ijyu.pref.mie.lg.jp/html/mie_data.php)